If you're a Windows 10 or Windows 10 Mobile developer and you're looking for an easier way to keep track of all that app revenue you've accumulated, you may want to take a look at AdMesh for pubCenter.
Developed by ImaginationOverflow, AdMesh for pubCenter gives you a way to access your Microsoft pubCenter earnings while on the go.
As for specific features, AdMesh for pubCenter supports custom reports, insights, customizable live tile presentation, and customizable toast notifications, which goes above and beyond simply pinning the pubCenter website to Start or adding it to your favorites.
You can quickly revenue for today, yesterday and overall average when you first open the app and sign in. You can view revenue by app in the last 30 days and see how your revenue is evolving in the last 30 days.
If you're a power user that wishes to know everything about how your revenue is evolving, you can see insights by current and previous week, last 7 days, last 30 days, the current month, and the previous month.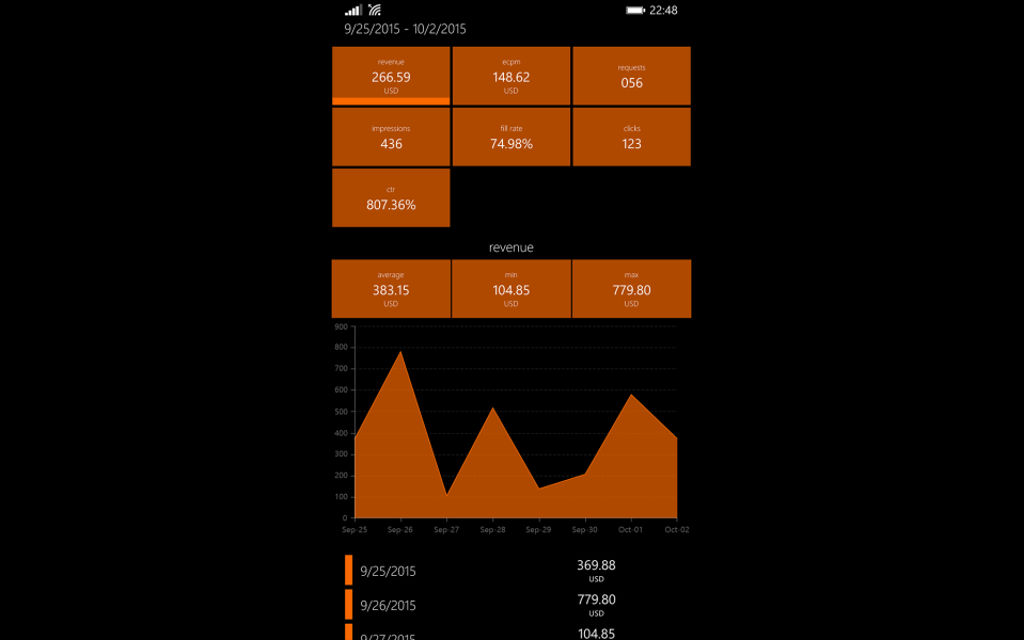 The full feature set of the app are listed below:
View custom reports
Application insights
Application related reports
Application ad unit reports
Overall reports such as, monthly, weekly or yearly
Customizable live tile report presentation
Customizable toast notifications to show reports
AdMesh for pubCenter is just one of many Developer-centric applications available on the Windows platform that are designed to make your life easier, but so far it stands out as arguably one of the best. I haven't spend enough time with the app to give a full review, but most developers may find it to be a useful companion for their smartphones.
The AdMesh for pubCenter application can be downloaded via the QR code and download link below. What other apps do you like to use on your smartphone to help you create and manage your development lifestyle? Let us know in the comments below or via our community.
Developer:
‪ImaginationOverflow‬