The beginning:
Founded back in 2007, Zariba Games is a leading mobile gaming company offering high-quality games and interactive game experience. Proud to partner with industry titans such as Walt Disney, Coca-Cola, Samsung, LG and gaining valuable experience and strong programming background throughout the years, Zariba is nowadays a globally recognized Game Studio in Europe. Zariba Games portfolio is constantly growing and currently consists of more than 40 published titles, distributed through Apple and Android's proprietary app stores (as well as circulating in a large number of alternative platforms and stores).
Windows Phone Store Debut:
Looking for new business horizons and having found a huge potential in Windows Phone Store, the developer stepped on the Windows Phone Arena to deliver high quality mobile content for Windows 8.1 users.
The beginning was set on 17th of November 2014 when Zariba announced the launch of its latest fast-paced running game – Ladybug Run, which is only available on Windows Phone App Market. Offering stunning 3D graphics and colorful in-game environment, the game was heartily welcomed by Windows users and is constantly featured in a number of countries such as US, UK, Germany, Spain, Mexico and ranked in top store categories (Most popular, Top overall).
The great debut led to a new game release just in time for the Festive Christmas season. On Dec, 8th 2014, another endless runner- Running With Santa 2 was officially released to boost holiday spirit on the store. It was well-accepted, scoring stable downloads and positive user reviews even after Christmas period.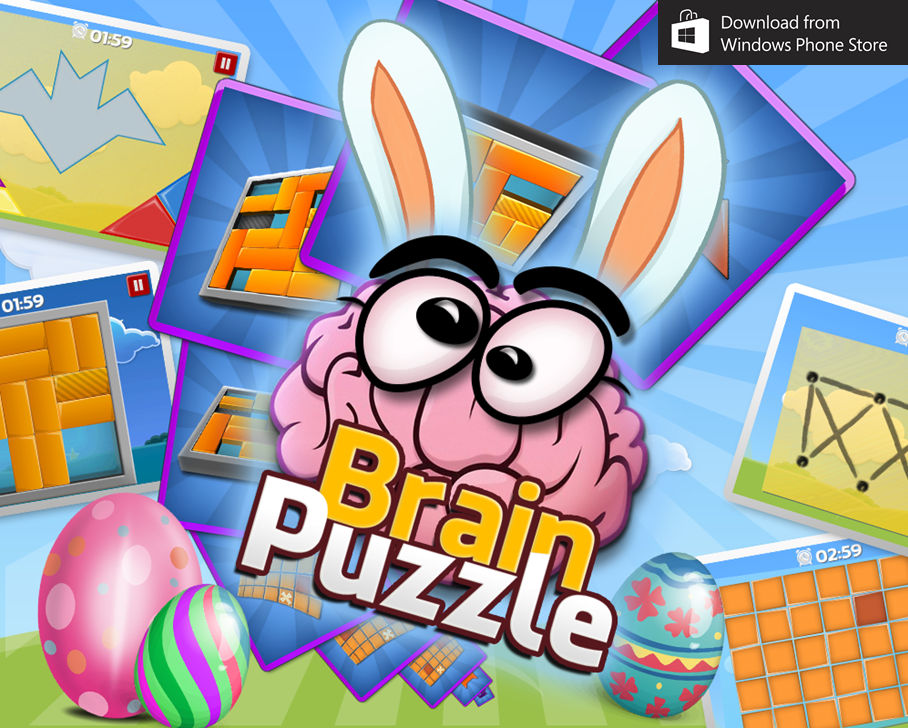 The promising start encouraged the Game Studio to increasingly expand its mobile games' portfolio on the Windows Store App market. The result: 7 more games are now accessible on Windows Phone App Market from the beginning of April, including proven hits on Apple App Store and  Google Play store such as: Brain Puzzle, High Burger and Cake, etc. Explore the extensive list of Windows Phone games by Zariba Games here.
Here's what Mr. Galin Dinkov, the co-founder of Zariba Games, had to say behind the scenes:
What's behind the success of Zariba? How can young developers and startup game studios leverage the experience of Zariba? Tip them with some good advice from your practice.
"The way to success and good reputation is never easy. Zariba made no exception, too. The mobile game market is extremely crowded and the competition is fierce. We often use to remind Yoda's quote in the office" Do or do not! There is no try". To succeed in mobile gaming business, you have to equip with determination and motivation to work hard, adapt fast, make the most out of mistakes and always get back on track ready to do your best and deliver added value for the customers!

A talented and devoted team of professionals is certainly the main core to building a successful venture. It also takes flexible management decisions, drive to deliver effective solutions and implement creative ideas adapted to the requirements of Today's mobile era. We always try to respect users' feedback and use their constructive critics wisely. Willing to make a difference, Zariba invest in game updates and improvements on a regular basis to polish user experience and stay ahead of new trends in gaming.

Flexible monetization tactics are also a critical factor to success. When it comes to revenue, the company uses either Free to Play method relying on in-app purchases or provide Premium versions. We make some exclusive marketing campaigns such as: Premiums gone Freemiums overnight, Premium games' trials, etc. Zariba also takes advantage of cross promotion and ad integration tactics. "
What's more to come next? What can Windows users expect from Zariba Games?
Striving to deliver Windows Phone users' satisfaction, Zariba Games Studio is now enthusiastically working on new mobile game projects and is taking the challenge to impress mobile game lovers even more. Stay tuned for all of the upcoming surprises!
The preceding article was written for 1800Pocket/PC by Zariba Games team and does not reflect the thoughts or opinions of 1800Pocket/PC or TruTower.