If you needed any more indication that Windows Phone 8.1 was taking the Windows ecosystem by storm, AdDuplex has provided all the data you need, showing a rise to 39.1 percent of WP8.1 on all devices compared to 24.4 percent last month out of a total of 4,528 devices surveyed that were running AdDuplex version 2 on September 24, 2014. The OS should overtake Windows Phone 8.0 sometime next month.
It should come as no surprise that most of these devices are manufactured by the Nokia devices and services division purchased by Microsoft this past year, which make up 95.14% of the divices, followed by dropping market share of HTC, Samsung and Huawei. Meanwhile, other OEMs such as Prestigio and Micromax are making some growing noise in the ecosystem.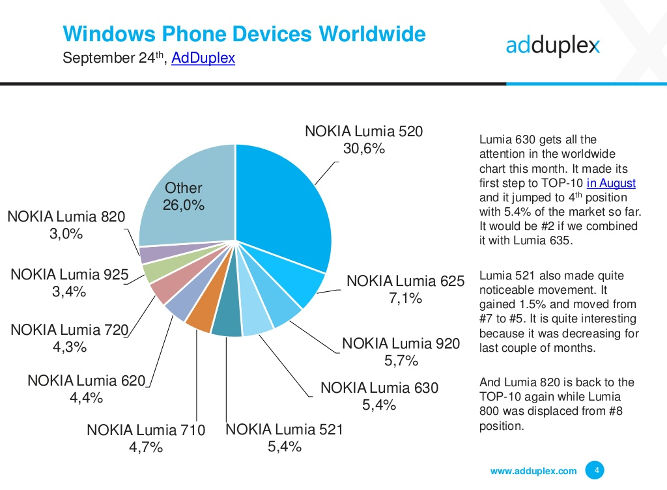 The most widely used device is unsurprisingly the Lumia 521 followed by the Lumia 520, and the Lumia 630 has seen some strong growth this month with 5.4 percent of the share. Still, it's far from the latter two devices, which will likely continue to dominate the Windows Phone ecosystem for some time. The HTC One (M8) also went from 28th to 40th, showing that at least HTC's devices are showing some growth in demand.