If you're searching for a Tinder client on Windows Phone, chances are you're already using 6tin but there's also a new option out there for those looking to access the dating network on their Windows tablets and PCs.
It's called TinderWindows from developer Cursive Apps and while the name might be a bit on the risky side (you never know when Tinder will call in the legal team for using the full "Tinder" name in an unofficial app's name), the app works almost as good as the native application for iOS and Android as well as the aforementioned 6tin for Windows Phone.
The Windows version was used most of the time, though I did spend a lot of time on the phone version as well. On my tablet, the log in worked great at first. I was able to use TinderWindows for quite some time before the app shut down unexpectedly. This unexpected shut down happened most frequently after hitting the log in option using Facebook and also after viewing a certain number of potential matches. After uninstalling and reinstalling the app and restarting the tablet, the unexpected shut downs happened less frequently, which initially led me to believe that it could have been the installation itself or possibly the device.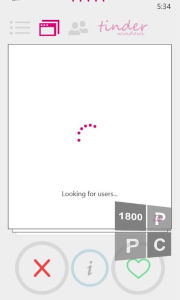 However, that possibility became less likely after I noticed that pictures of potential matches stopped showing up. Instead, both the Windows and Windows Phone version of the app would show a constant loading screen and would not move beyond that point, even after tapping the "heart" or "x" icons. You can see this in the screenshot at the left. For this reason, the app loses points on its overall rating. Even 6tin pulled up all the photos so currently works better overall than TinderWindows on Windows Phone. Hopefully an update will fix this.
Where TinderWindows did shine, though, was in the messaging, which was every bit as snappy and dependable as the official app. It arguably worked better than even 6tin in comparison tests between the two on Windows Phone. On tablets and PCs, TinderWindows really doesn't have any competition except for maybe the Tinder website itself. For this reason, Tinder users will find it very useful for keeping up with their already established friends and matches on their PCs and tablets.
For viewing potential matches, gaining new matches, and viewing photos, however, it's recommended that you use the Tinder website on tablet and PC or 6tin on Windows Phone until the problems with photos and profiles loading are fixed. You can certainly use the functionality on TinderWindows, but after a you've selected the "heart" or "x" a number of times, as mentioned, you'll get stuck with a constant loading screen where the photo should be. For messages, TinderWindows works great, and is a perfect option for chatting with your matches and friends.
Overall, TinderWindows stands apart as not only the exclusive Tinder app on Windows PCs and tablets, but as a great alternative to 6tin for Windows Phone if that app doesn't work for you. The loading and crashing issues hinder an otherwise perfect Tinder experience on Windows Phone, tablet, and PC.
You can download TinderWindows via the Windows Store for tablets and PCs or by using the QR code above for Windows Phone.