Gameloft has been on a roll on the Windows platform lately. In addition to an upcoming update for Asphalt Overdrive for Windows phone, tablet and PC, the company is also planning to release an update to its popular Spider-Man Unlimited endless runner this week.
Inspired by Marvel's Spider-Verse comics storyline and published in collaboration with Marvel, Spider-Man Unlimited's Spider-Verse represents the first time game content will be synced with new comic content in a unique, playable experience. The update will push the boundaries of endless Spider-Man content by bringing actual storylines and characters that are living and breathing through the comics to the game.
The first update to the game added some new features for Halloween, but this new update to Spider-Man Unlimited promises to completely renew players' game experiences with a new event called "The Great Hunt." Within "The Great Hunt," players battle the Inheritors – a new breed of villain – who seek to destroy all dimensional Spider-Men. The battle against the Inheritors offers a unique angle for players: the personal preservation of Spider-Man and his Spidey allies.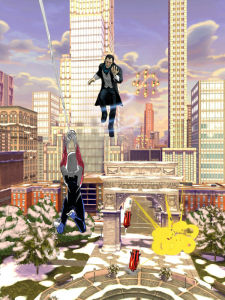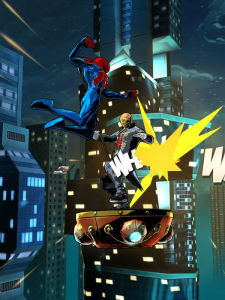 In keeping with the game's commitment to consistently release new Spider-Men, eight Spider-Men featured in the Spider-Verse comics will be added to the players' growing army of 26 playable Spider-Men, including Ultimate Spider-Man, Silk, and Spider-UK. Players will get the chance to take on Morlun's and Karn's wrath as they run, swing, and fight in the new dimensional environment, Earth 2099 – home of Spider-Man 2099.
Gameloft says its new Spider-Man Unlimited update will be available this Thursday as a free download, though it does offer in-app purchases. While you wait, be sure to download the latest release via the QR code above.