Managing a small business can be a hassle without the right combination of software to help you manage your employees and their payroll and time. There are quite a few business applications on the Windows platform that help you with different tasks. One of these is the Piilo Pocket HR application, which provides small businesses with a way to "automate" their workspace and administration from their Windows Phone.
The app's features and functionality include:
Payroll – create payslips. View, download and email payslips
Employee data – enter employee data, photos and upload supporting information via camera
Time recording – record time and submit for approval
Leave management – request leave, view balances and upload supporting information via camera

Performance awards – allocate and view awards
Co-worker search – search for co-worker information
Notifications – receive and act on requests/approvals
Reporting – view reports for each functional area
Work on/off line – work offline and sync data when you have connectivity
Sync co-worker contact information – sync contact details on your smartphone
Authorization – Manage everything on behalf of employees or give them access to manage their requests and data
Signing up for the software is easy. After downloading the software from the Windows Phone Store using the QR code on the right, you're first prompted to either log in or create a small business management account.
Selecting the first option will immediately take you to a page that looks similar to the one above, where you'll fill in information such as your company name, address, phone number, email address and other information you choose to insert. You'll also be asked to accept the Piilo terms of service at this time. It's a pretty straight forward process. If you forget to fill out something that's required in order to proceed (such as your mobile number), the software immediately alerts you until all required fields are complete. Information such as phone number and address, with the exception of the City field, are not required.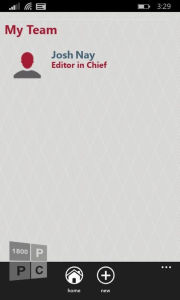 Once you've gotten through the sign-up process, you're ready to start building your team, which is the next recommended step in the process.
Tap on My Team in the first menu you see and you'll be taken to a screen like the one on the left. This is where you can manage your employees and all of their information. Tapping on the Plus ( + ) symbol at the bottom will allow you to add new employees to your team. You can also tap on an existing employee to edit the employees information, and attach documents, including:
Employment Contract
Identification
Medial Information
Tax Information
Other (anything you feel is applicable)
The above documents can be attached by taking a picture of a document with your camera similar to apps like Office Lens.
Once you've attached the necessary documents, you can tap the Home button at the bottom of the screen to return to the main menu (alternatively, you can also tap the device's back button until you're back at the home page of the app).
This is just the beginning of what's possible with Piilo. As you can see in the screenshots at the top of this article, you can also add pay and time to your device for yourself and each of your employees, keeping your payroll and work hours up to date and at your fingertips.
All of the information and data that you enter into Piilo is stored on Microsoft's secure Azure infrastructure, ensuring that you can have your data backed up on the cloud should your device ever inevitably crash. This also makes it easy to swap between devices or switch to a new device.
All-in-all, Piilo is a great piece of software for the business user and will help keep things organized, backed up, and secure, as well as mobile for all of you using a mobile office. It's one of the very few pieces of software on Windows Phone to earn a perfect 10.
The app will also be coming soon to Windows 8, so you'll be able to manage all of your employees from smartphone, tablet, and PC, making things a little more convenient for you.
Piilo is being offered for $0.99 USD per user with a 14 day free trial attached. You can download the software via the QR code above. We'll also post an article when the Windows 8.1 version becomes available.