This is one of the longest made concepts, with many changes and added things. I hope you enjoy it.
This is one of the There are several known browser among which you can choose. The choice of each is dictated by personal needs and desires. Generally I'm not interested in percentages and graphs of browser's usage. Everything is relative and changeable. Personally I use several browsers on my PC I use each of them for different purposes. Opera is one of the famous browsers in the world and one of the Big five. I use it on my PC and on my Android device. Also I've tried the unofficial homebrew version for my Windows Phone.
Currently Opera has a similar look at all mobile platforms – for Android, for iOS, for Windows Mobile and the ported homebrew version – different platforms – same look. I'm sure this is a company policy and of course – is a brand. Nothing prevents the Opera developer team to release an official version for Windows Phone with the same familiar look and completely to ignore the Windows Phone requirements. I'll try to change that, and I will present my vision for transformed Opera for Windows Phone.

One of the features in Windows Phone 8 is the maintenance of screens with higher resolution – this will allow you to see more content and better optimized interfaces. Will allow the addition of more items on the screen and more content. Along with the main principle of the Metro interface – the interface is not intruding, and is there when needed and leave more room for the content. I think content should be elevated, and everything else should be minimized. Especially with touch interfaces, content is UI, and users should be able to interact directly. Simple as that.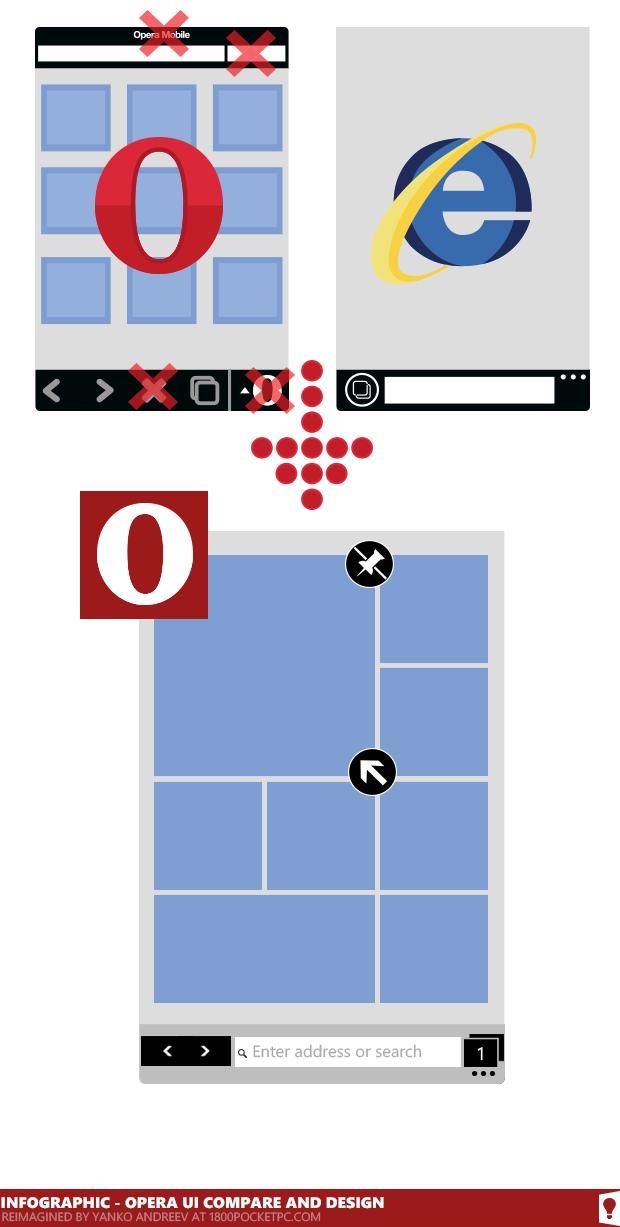 Current Opera Mobile has to many unnecessary UI – permanent header row, address field, search field and navigation bar. The appbar in the current version of Internet Explorer Mobile 10 is not optimize for bigger screens too, and waste too much space for one button and for the address bar.
It's time Opera to abandon the separate search field and to focus on minimizing the interface. One field for URLs and searching. Based this concept of the new high-resolution screens I will bring everything into a single bar, which will be displayed on the home screen and during loading page. Then the bar will automatically disappear to open space for the whole site content. It will appear with one tap somewhere on the screen and of course there will be an option to toggle bar permanently. The new Opera will take the best of Windows Phone 8 – Opera Speed dial will support pinned web site tiles, moving, resizing or unpinning a web-tile.
This concept will be optimized for screens with a resolution of 1280 x 720. In the graph below you can see a rough comparison between the existing version of Opera and my vision for the new and optimize modern Opera interface for Windows phones with the same resolution.
The new modern UI Opera will bring everything into a single bar – including single navigation (back/forward) button, address+search field and tabs button. The navigation button will be unique for Opera – swiping to the left will bring you back. To go forward swipe to the right.
I suggest the new Opera for Windows Phone to have completely customizable UI and swipe gestures:
options to add/remove navigation button
hold and swipe to the right for back and hold and swipe to the left for back forward
fullscreen UI – appbar will automatically disappear when you scroll. One tap will bring it back.
tabs button for quick non-fullscreen tabs switch
lock rotation
Opera Speed dial with web tiles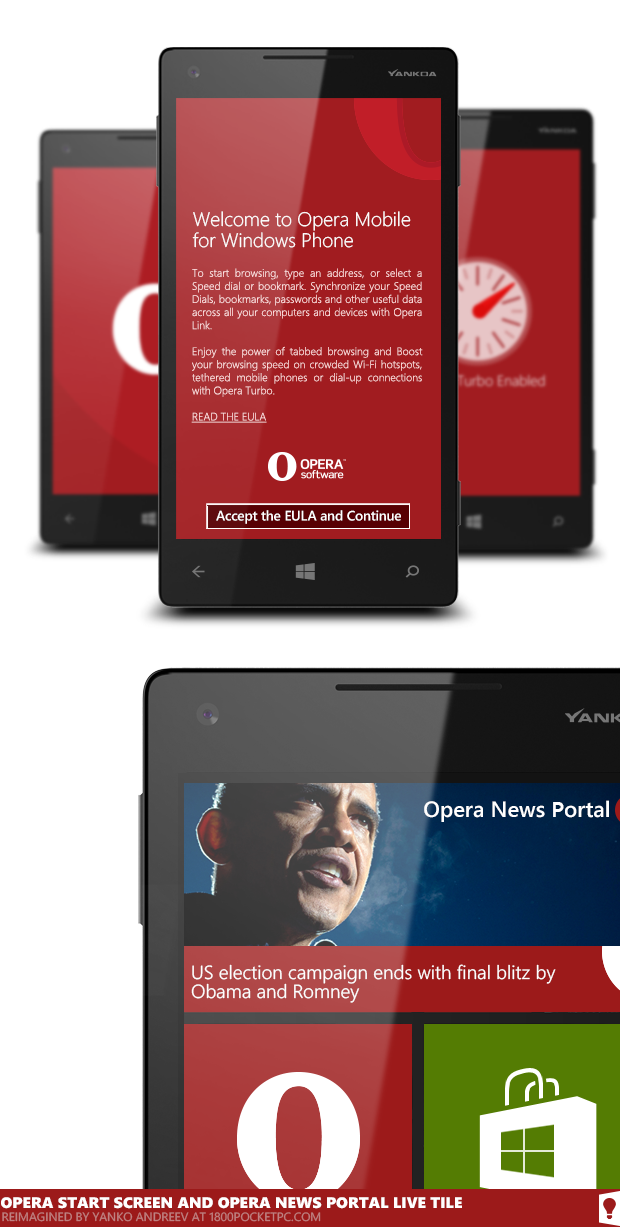 Here is some of the unique features of the modern UI Opera – Speed dial, tabs (horizontal or vertical) and lock rotation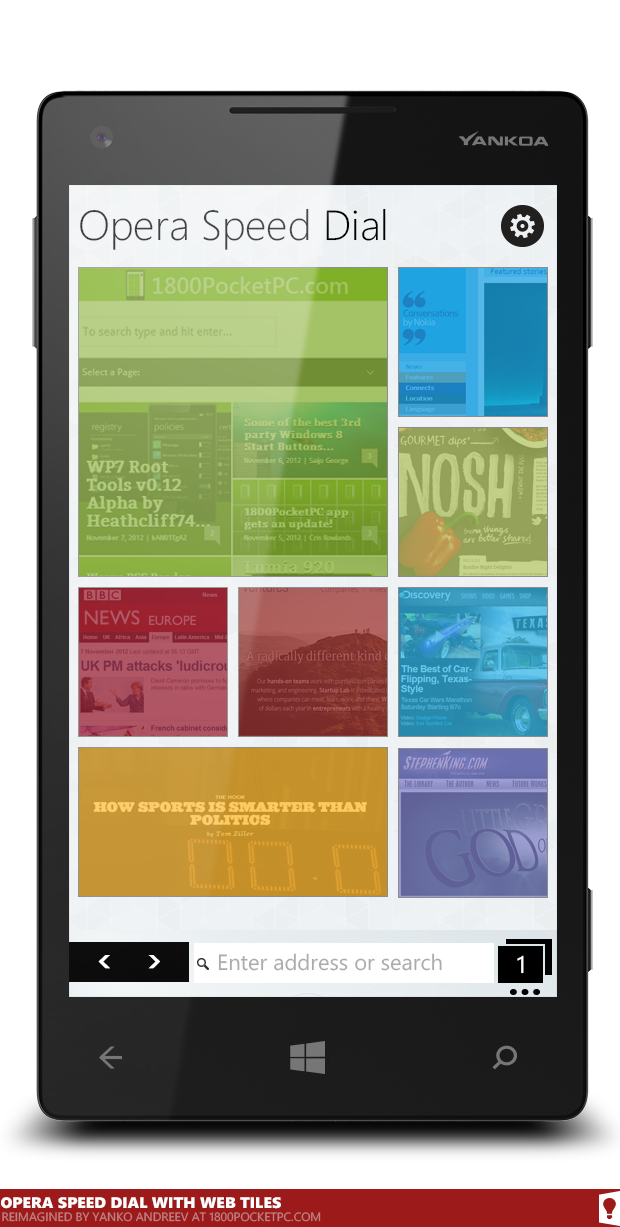 Opera Mobile include
tabbed browsing
long clicks menus
password manager
opera turbo
opera link
data usage control
saved page for offline viewing
integrated YouTube HTML5 Video Player support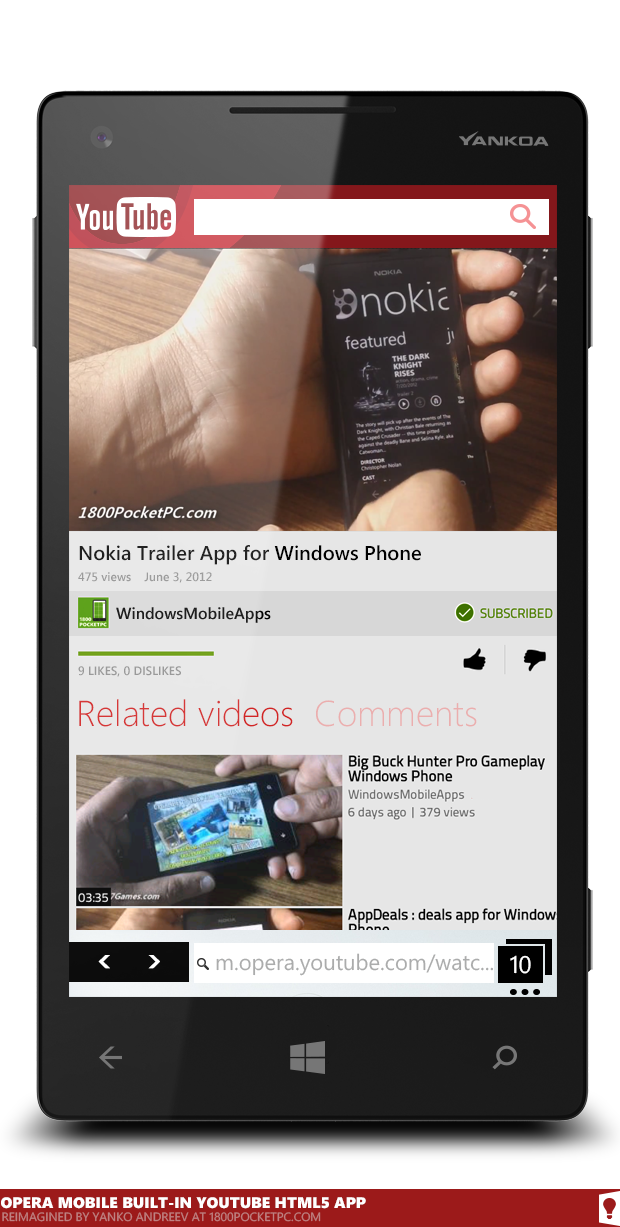 I hope you enjoy the concept and the ideas. Do you liked or no – please write in the comments below.