A new feature has just reached the Windows Phone marketplace which allows you to download an app or game's XAP file (pronounced zap), which is a container that holds all the files for an app. You could think of XAPs as being installers, like CABs from back in the Windows Mobile days.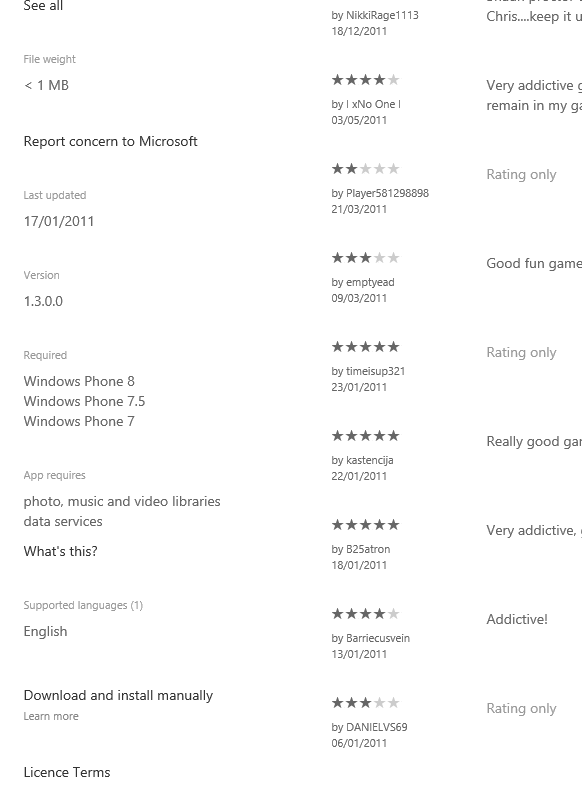 Last week I let a friend borrow my LG Optimus 7 and returned to my old HTC Touch Pro 2; a fantastic device running Windows Mobile 6.5. It had been reset to the default settings, but I still have some CAB files from back when I was still in love with WM, so I just copied them across to my memory card & installed them. Simple.
Now those with Windows Phone 8 devices will have the ability to do just the same. The web marketplace has already been updated to display this change, showing a link for downloading the app/game.
As a developer, I worry about the copyright issues this new feature might bring, cant people just download anything & install it?
The answer is yes and no. Anyone can download the files, but the apps must be installed through the marketplace, which checks for a valid license before it will go through with it. Its reported that free apps will simply install regardless of previous purchase & paid apps with trials will also install as trials, but there is no way to install a paid app without having paid for it. I presume that if you try to do so, the marketplace app will ask you to pay.
Another issue is that XAPs are pretty much just ZIP files with the extension renamed to 'XAP' but Microsoft seems to have tinkered with the encryption they use. Earlier I downloaded a XAP (one of my own) and tried renaming the file to see what happened, but when I looked inside the ZIP file, it showed up as empty. I wonder how long it will be before someone tries to crack that….
Anyway, I think this is a nice addition to Windows Phone 8 feature set & would love it if they could add it to WP7.8 (whenever that may appear). There is more information about installing XAPs from the SD card on the WindowsPhone website here.
What do you think about downloading and installing XAPs manually, drop us a comment & let us know!