I'll admit it, I'm a big fan of text-based games.
It comes from my old addiction to Utopia and hasn't left me since. However, there was one thing that eluded me until now: a really good text-based game for my Windows Phone.
Simply put, Legends of Lore from PulseLab, Ltd. is the best text-based game I've played on any smartphone. During the game, you'll be tasked with exploring a vast, open world, embarking on quests for items, obtaining gold from kills, and more.
If you're new to text-based games, think of them as interactive storybooks, allowing you to choose which page you'd like to read next.
The game includes the ability to backup and restore from OneDrive, so you don't have to worry about losing your game progress when you switch to another phone or if your phone decides to show you that black screen of death.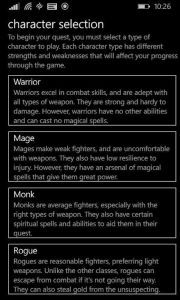 First off, before you start playing, I'd recommend getting a clean sheet of paper on which you can draw a map. If you don't, you may find yourself getting a bit lost. The game is actually quite large, and a map is the best way of keeping track of your progress as well as marking where places of interest are.
It's true that there are in-game maps, but if you're like me, you might want a little more detail. There are various side quests you can go through as well as quite a few buildings and landmarks, so these would be good things to add to your map.
When you start the game, you'll be asked to choose a character class from those listed in the screenshot on the left. Once you've chosen your character, you're ready to start the game.
The rest of the game is pretty self explanatory. You read through the text and select the direction you'd like to go or the action you want to perform. Sometimes these actions will be in the menu at the bottom of the screen, other times you'll have to tap on text. You can see an example of this in the screenshot of an in-game fighting sequence on the right.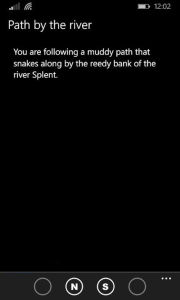 During the course of your adventure, it's important to keep tabs on your in-game Journal. The Journal will help you stay informed about any pending side quests or missions in the main quest, allowing you the freedom to choose what you'd like to do next. You'll also want to utilize your Spell Book and Inventory quite a bit during the game to heal or learn about the spells you have at your disposal.
You proceed through the game as you wish, choosing the directions (N,S,E,W) at the bottom of the screen as well as the actions in the sequences to progress and perform tasks. You'll level up as you continue to battle foes and you'll be able to obtain stronger and better weapons as you gain gold, so the RPG elements are certainly there.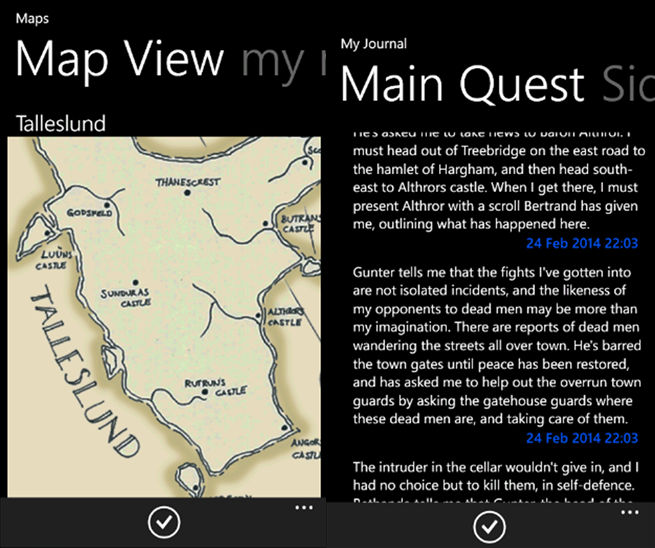 There are even special events added by the developer. For example, there was exclusive content delivered to players for free for Halloween through obtaining an in-game redemption code.
One thing I felt would add a little more immersion into the game is a little background noise, such as people in the market, or the sound of flames burning in a castle, depending on the area. In open land, the sound of birds chirping or a small breeze would also be neat. These are mere suggestions, though, and are not needed to make the game a great one.
Some might say the sound effects, music or some pictures within the text are needed, but I disagree. Part of the fun of text-based games is being able to use a certain degree of imagination, again like reading an interactive storybook.
Legends of Lore appears to deliver on all necessary fronts to make a really fantastic game and is a highly-recommended game for anyone who enjoys to read, who loves role-playing games, or who's a big fan of text-based strategy. In a world with high-profile graphics and the requirement of having to watch a game play out rather than imagine it, games like Legends of Lore deliver that much needed step back to the basics.
You can download Legends of Lore for free (ad-supported) or the ad-free version via the QR codes above. The game works across Windows Phone 7.x and Windows Phone 8.x devices.