If you're looking for a way to secure your photos, give Secure Photo Gallery for Windows Phone a try. Secure Photo Gallery protects the photos on your smartphone with a password, but it also does a lot more than that.
There's a full video editor built into the app, which allows you to apply filters, crop, blur, and adjust orientation. You can import video and images from the Gallery or SD Card and even capture new videos and images. There's also a built in video player.
As you can see from the below feature list, there's still a lot more under the hood:
Protect private photos
Hide sensitive videos
Photo editor (apply filters, crop, blur effect, orientation & adjustment)
Slide show support
Apply blur effect to photos
Record video from the app's interface
Multiple export,import and move options
Create personalized albums
Organize photos and videos in multiple albums
Three security Credentials (password, PIN & pattern)
Decoy Mode (fake user)
Camouflage (fake launch tile)
Secure Browser (no browsing history saved)
Brute force attack prevention
Multiple themes
Takes images on unauthorized login attempts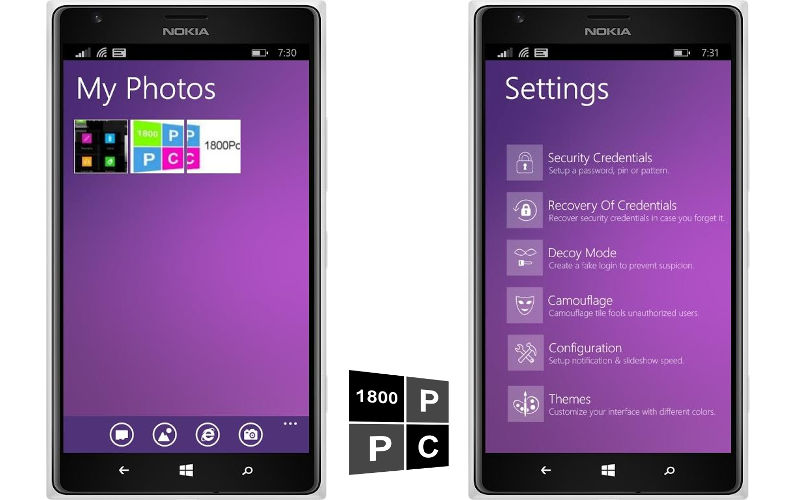 Import options:
Download photos & videos from Secure Browser
Import from the Gallery
Capture photos & videos from Camera
Import from SD Cards
View & Edit Photos
Picture Viewer for Photos
Photo editor
Photos blur effect
Settings and Options:
Hacker Deterrents
Decoy Mode (Fake Password)
Brute force attack prevention
Takes images of unauthorized users
Backup of credentials
Secure Photo Gallery is free for a limited time via myAppFree, so be sure to download it from the Windows Phone Store within the next day or so. Use the QR codes above to download it and myAppFree. Both apps are free downloads.
What's your favorite photo app on Windows Phone?