I'm a man of comedy, mostly because I just love to laugh and make people laugh. No matter what your background, what you do professionally, or what might be happening in your life, laughter can dispel all of that and give you and your mood more vitality than a very large cup of coffee can provide.
For the past couple of days, I've been immersed in comedy up to my ears with iFunny from Crazy-Hot Solutions installed on my Windows Phone, and I decided to make it the subject of my latest review.
You can find a lot to love and laugh about in iFunny, which gets content from a variety of publications and websites from around the web. As of this writing, iFunny pulls from the following comedy blogs:
iFunny
9gag
memedroid
LOL Cats
NOT your best day
Damn Funny Texts
Damn You Autocorrect
Parent Fails
The Worst Stuff Ever
Wrong Number Texts
Awkward Names
Epic WTFs
Work LOLs
Get Out of the Mirror
FAIL blog
Epic Demotivational
The app content is updated constantly, though you'll have to manually check. The app's Live Tile consists of an emoji of a smiley with the emoticon on the flip side, which isn't a bad thing. With so much new content being added on a regular basis along with thousands of existing pieces of content, I didn't expect the Live Tile to show much, but a focus on a particular section such as the "Popular" section might be a good way to enable a Live Tile experience. There are also no notifications or alerts, but again with the sheer amount of content, this isn't entirely surprising since you'd likely end up with a consistent "99" number anyway. Maybe a focus on a certain section could work here as well.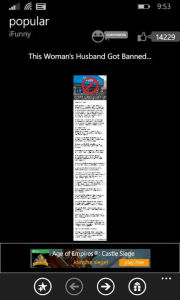 The app includes Achievements, which is a nice touch and is also something that exists in the official 1800Pocket/PC app. You can gain Achievements in iFunny for favoriting pictures, rating the app, viewing pictures, and more. Achievements add a sense of depth to iFunny. The app doesn't notify you when you've scored an Achievement, which would be a nice addition, so you'll have to check periodically on your progress.
One thing I think could use some work is the zoom functionality of the app. As you can see from the screenshot on the right, when you first access some of the content, it's zoomed so far out that it's impossible to read. Tapping once will zoom it in to readable size, but you have to scroll up to the top to be able to start reading from the beginning. It would be nice if the app would automatically zoom in far enough to fill the screen when you first access the conent and allow you to zoom out yourself, or at least zoom in to the very top of the content when you tap to zoom.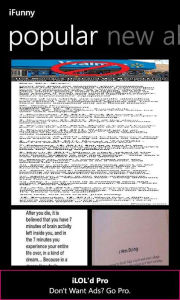 Where the app does shine, is the UI, which is consistent with Microsoft's Modern UI vision. While some of the content has to be resized to fit in the "tiles," which can make things look stretched and awkward (see the screenshot on the left), for most content it works pretty well, and you can read a lot of content at a glance this way. It would be great if the images were zoomed in to fit the tiles horizontally only rather than try to cram entire images in the tiles. This way, they would still be readable in a preview.
One thing I love about the app is its share feature, which allows you to share content within the app with friends on Facebook, Twitter, through email, or via text. You can also download images to your phone if you'd prefer to share content in other ways or save it to your OneDrive or Dropbox.
Overall, while it could use a bit of tweaking and shining, iFunny does run well and makes for a nice user experience, delivering comedy gold at every turn, which makes it well worth downloading to your device. You can do so via the QR code above for free. Share your own thoughts about the app in the comments below.