Being social is more than just connecting with friends and family you largely already connect with on a daily basis. While this is certainly a great goal to be sure, many members of your current social circle may not share the same interests as you, and forming new connections that have more in common with you can lead to some of the best social experiences you can imagine.
That's one of the things that makes Heard so unique. Formerly known as Blahgua and published by eweware, Heard does not use friends, followers or personal information to function as Facebook, Twitter, and Google Plus require. Instead, the system uses reputation, performance and feedback signals to continuously and dynamically match content.
Many Windows Phone users already know about Heard; the app was launched on the Windows Phone platform first as Blahgua, and according to Heard CEO and founder Dave Vronay, whom I recently had the opportunity to speak with on the phone, there are "more users on the Windows Phone platform" than any other.
"Heard takes a different approach to identity," Vronay said. "[Instead of requiring so much personal information] like Facebook and Google do, Heard uses badges to associate users in conversation to provide reputation."
This not only serves to provide user privacy, a major topic for social networks and apps nowadays, but also allows users to find people who share common interests and specialties.
Heard's proprietary badging system helps users make trust decisions about content and are based on securely verified facts about users (e.g. where they work, industry expertise, association memberships). These badges are double-blind encrypted so that no one is able to discover which information was used to obtain the badge, only that which has been verified.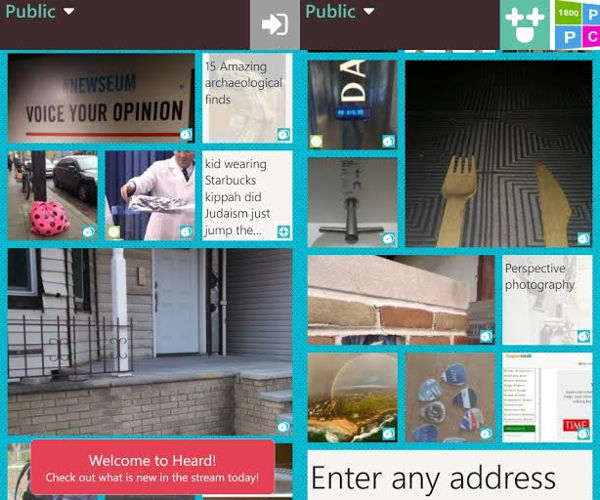 Of course, you don't have to sign in, but doing so will allow you to have a more personalized content stream. You'll be able to check out posts, polls, predictions and questions from other users. Interact as much or as little as you want. Users can join conversations by creating posts, and Heard automatically connects content to the right audience, tracking user reaction with in-depth stats.
My time with the application has been pretty good so far, though I did have some initial troubles with staying signed in — the app kept crashing when I attempted to change my nickname in my profile. Otherwise the initial use of the app was very good.
For additions, though follower count is not a big deal, I think being able to follow a certain member whose posts you like would be a nice addition. They wouldn't have to be notified, their follower count wouldn't have to be posted, and therefore there would be no pressure to want to boost follower count.
As with any social app, the more users there are, the more content there is to discover, and Heard's way of targeting content helps make sure your posts are able to be seen by like-minded people. The app is also ad-free.
Overall, it's been a pretty good experience, though it could definitely use more content, so be sure to download the app using the QR code above, sign in, and start posting! If you don't want to download the smartphone version, there's also a web version of the app available on Heard's website.
Vronay also mentioned a "big update" forthcoming for Windows Phone after the holidays and although I don't have any information to share about the update right now, rest assured I'll be covering it on 1800PPC as soon as it goes live.