Crazy-Hot Solutions have sent us a press release about their latest app iFunny :-) being released in the Windows 8 Store to help you pass the day a funny way with GIFs and witty memes.

Some of you eagle eyed readers may recognise the developer, he brought us iLOL'd which was rebranded into its current name iFunny a short while back.
iFunny :-) is a fun way to pass the time, it allows you to check out all the hilarious content found all over the web in one place.
If your kick is kittens, epic fails and wtf's then this app is for you!
If your having a tough day at work, or just looking for some mindless fun, I urge you to try iFunny, It has been developed with humour in mind, a way to relieve the stresses of everyday life by poking fun out of others miss-fortune!
Browse funny pictures from numerous sources including;
iFunny
9gag
memedroid
imgur
LOL Cats
NOT your best day
Damn Funny Texts
Damn You Autocorrect
Parent Fails
The Worst Stuff Ever
Wrong Number Texts
Awkward Names
Epic WTFs
Work LOLs
Get Out of the Mirror
FAIL blog
Epic Demotivational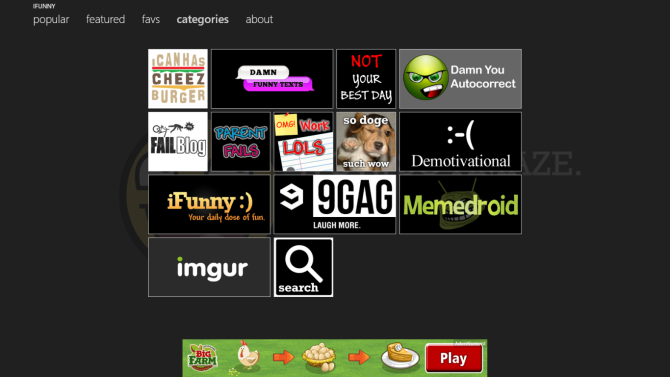 Once you find that one hilarious picture you can comment directly from the app, you can also share it to social media sites or save the image to email a friend and give them a good laugh. If you find a source of funny pictures you can let the developer know and it will be included if appropriate.
The app is free, Download it Windows Store and hopefully you won't find a picture of yourself!