Yesterday saw the release of a brand new design for Disqus, a design that makes it easier than ever to follow the news and communities you most enjoy that use the commenting software, including 1800Pocket/PC.
To those who just downloaded it for the first time, it might take a slight learning curve to find your way around the app and add your favorite news sites to it. At 1800Pocket/PC, we understand and have taken the liberty to draw up this tutorial for adding news to your news feed for easy reading and commenting.
For the most part, the process to follow sites and add them to your account hasn't changed much.
When you first open the application, you're greeted with slides like the one below, left. Tapping the Get Started button on the bottom will send you directly to the app's login screen, where you can log in to your Disqus account or create a new account using a Disqus ID, Facebook, Twitter, or even Google Plus.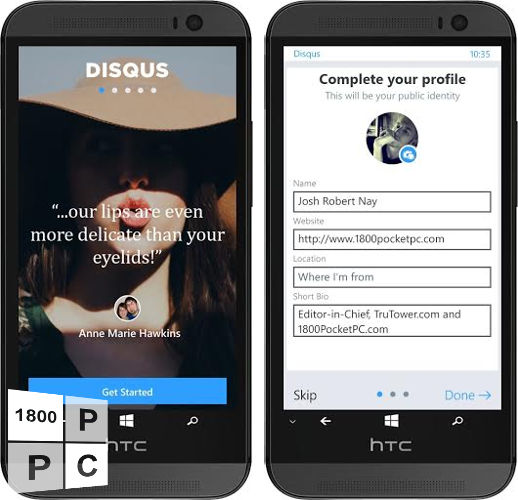 The changes to the app become apprent once you log in. On the next screen, you'll be asked to complete your Disqus profile (above, right), which includes information such as your name, website, and a short bio. Fill out this information and hit Done (alternatively, swipe left) or simply skip it for now if you'd prefer.
The next screen allows you to pick the communities you want to follow. You should be able to find 1800Pocket/PC in this list. If not, we'll manually add it to your list in just a moment. For now, select a few communities you'd be interested in following and hit Done / swipe left or you can skip this for now as well.
The third screen will ask you what website you're from. Type in your website or any website of your choosing to share with the community or just skip it. Hitting the Home button will take you immediately to the new and improved Feed within Disqus.
If you were unable to find 1800Pocket/PC in the list as described above, the easiest way to add it to your list is by navigating to any page on the website (mobile, tablet, or PC) and tapping on the name of the website above the Disqus comments as outlined in red below. You'll see a blue follow button next to the name of the site. Tapping on this will add 1800Pocket/PC to your Disqus feed and will allow you to read the news from the site and easily add your own comments or upvote/downvote existing comments on the site.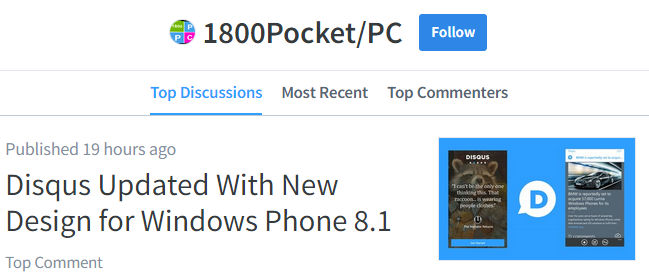 This is the same way it's always been done; Disqus hasn't yet added the ability to search for a particular user or blog into the app yet, but this would be a neat addition for a future update.
To see some community suggestions, which may or may not include 1800PPC, tap on the Menu icon (the three horizontal dots at the very bottom of the screen) and then tap manage following as shown in the screenshot below, left. Doing so will bring up a screen that includes three sections: People, Communities, and Suggestions. This area shows the people and communities you're following in an easy-to-read list and also provides suggestions to you.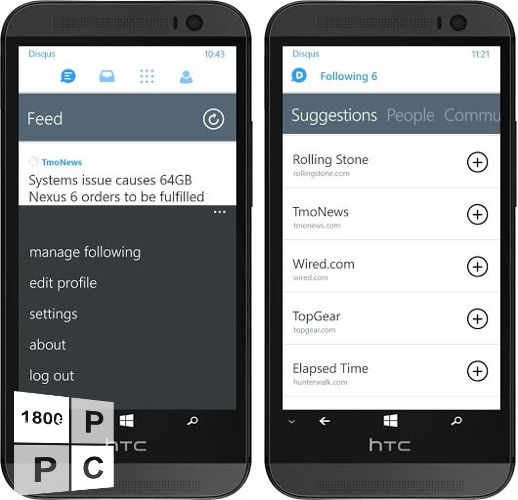 Swipe in any direction until you land on the Suggestions section (above, right). Simply tap the Plus icon to add or remove communities from your follow list. If you remove them, you'll have to follow the steps outlined earlier to re-follow them and show their news on your feed.
Hopefully this tutorial helps answer some of the questions you have about the redesign. If you have anything you'd like to add or have questions of your own, be sure to post them in the comments!