Facetune from Israeli developer Lightricks is a powerful portrait editing application that became one of the world's leading paid apps, with over 2.5 million downloads, ranking as the #1 paid app in over 80 countries, and the #1 app in the photo and video category in over 100 countries.
The Windows Phone version allows you to make your smiles shine with powerful editing tools that allow you to compare and contrast the original photo and the new "Facetuned" photo as you work with a single tap. Facetune helps to remove red-eye, blemishes and pimples, tooth discoloration, and even bald patches.
The app can help you do a lot more things with your Windows Phone photos, including:
PERFECT SMILES
Widen or refine your smile
Whiten and brighten your teeth
BEAUTIFUL SKIN
Smooth and rejuvenate your skin
Remove temporary imperfections like pimples and blemishes
PENETRATING EYES
Change your eye color
Remove red and white-eye effects
HAIR SALON
Color over grey hair
Fill bald patches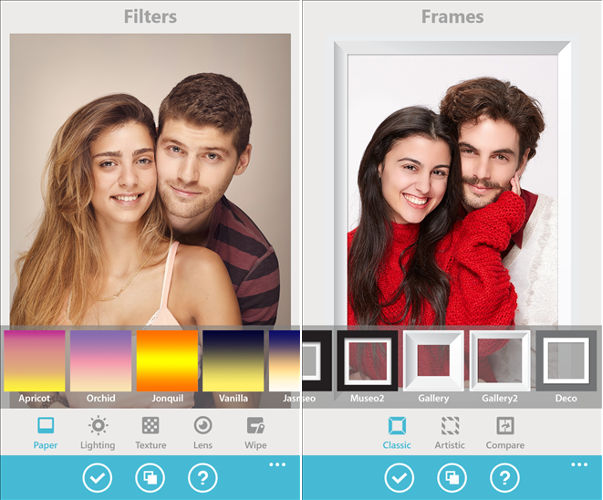 RESHAPE FACIAL STRUCTURE
Refine jaw lines
Heighten cheek bones and brows
Reshape your nose
VIVID MAKEUP
Apply any shade of blush and eye shadow
Add volume to your lashes and shape your brows
Add color to your lips
PHOTO ENHANCEMENTS
Focus the photo on you, by defocusing or blurring the background
Improve lighting or add special effects
Add unique textures and customizable frames
MAKE ART
Add artistic touches to make your photo your own
SHOW OFF
Instantly share your edited photos with your friends & family through social media or e-mail
EASY AND FUN
Compare your work with the original photo at every step of the way, with only one tap
With its high level of features and professional build and options, Facetune could be the perfect editor for your LinkedIn or other professional photos in which you'll want to have the best shot possible of your face. Of course, this is just one of many applications it can be used.
Facetune is available in the Windows Phone Store for $2.99 (no trial option) and you can download it via the QR code above.