ComiXchat is now available in the Windows Phone Store, and it gives you a new way to chat that fans of comic books will undoubtedly love, with hand-drawn images and comic-inspired chat bubbles.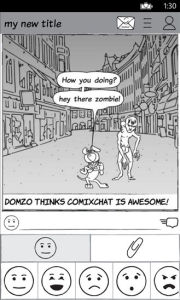 The app is described by its developer as "an oh-no-yet-another chat gizmo but with a mind-blowing twist that will put new life in even the most boring discussion with your nana, by staging an entire comics show around your words. You don't need to know how to draw. It does everything for you."
That means you can choose an avatar, and just start chatting. Your chats become comic strips whose appearance is based on the conversation you're having. You can share chats with friends, change your avatar to your liking, and even select your avatar's "mood."
Right now you can send text, and audio and video are currently available in "some of the devices", but developer Nubis Technology plans to include other devices in the future.
You can download the app via the QR code above or check out the app's FAQ if you need help using it. What do you think of ComiXchat?.