If you're a web developer, you probably remember the days when you had to download 5 or 6 different browsers to make sure that all of your changes would work across as many devices as possible. While many developers still do this, there is an easy way.
With all modern web browsers, emulation developer tools are part of the feature set, and Microsoft's Edge browser is no exception. These tools allow you to emulate different browsers without having to download them separately. Microsoft Edge also lets you choose different devices as well, so you make sure you're covering as many devices as possible.
It's very simple to invoke the developer tools on Edge. The first option for doing so is pressing F12 on an open Edge browser window. The second is by using the menu button on the top right of the browser window and selecting the option F12 Developer Tools. If you're doing this for the first time, you'll get a notification that View Source and Inspect Element options are now enabled on right-click.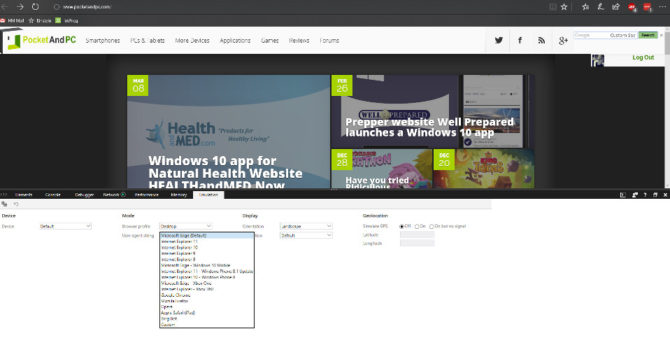 Once you've done this, simply select the Emulator tab.
From the Emulator tab, you'll see a number of drop down menus as shown above. Find the one that says User agent string and select the browser you wish to emulate. You can emulate Google Chrome, Mozilla Firefox, Internet Explorer 8-11, Apple Safari for iPad, Microsoft Edge for Windows 10 Mobile, and more.
That's it. You're now ready to develop and emulate like a pro!