If you're into games that have you speedily selecting boxes that represent numbers or letters in order to make words, then you might want to tear yourself away from Wordament long enough to try your hand at Brain Mania.
Developer Smart Cat contacted 1800Pocket/PC with a challenge: review Brain Mania. While the actual writing of the review isn't a challenge the game itself is.
The object of the game is to spell out letters and numbers –depending on whether you selected the "Numbers" or "Words" puzzle option when starting the game– to proceed to the next level.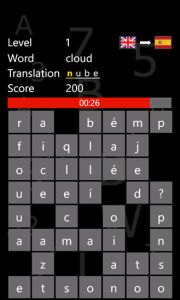 It seems simple enough. You have to select the letters or number in order, without making mistakes and tapping the wrong letters. For every mistake you make, you lose potential points you can gain. All the while, you're being timed. Run out of time and it's curtains for you.
At first the game is easy. You have 30 seconds to select your letters from a grid and for every word or chain of numbers you complete, you get your 30 second timer refilled. As you move to higher levels, the game gets harder, with bigger words / more numbers, more accents thrown in (which is the biggest cause of the errors I experienced), and the need to move faster to be able to select all the letters in time.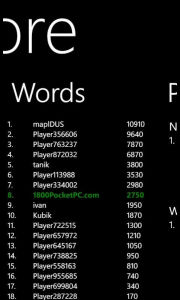 Before long, you're trying to move at lightning speed to select the letters, and you'll have the chance to see how well you do compared to the rest of the Brain Mania community by way of in-game leaderboards.
While I'm continuing to play and evaluate the game, so haven't experienced all it has yet, so far my impressions of Brain Mania are that it could probably be more challenging (time penalties for making mistakes, smaller time limits after a certain number of levels, etc.). Also the taps are sometimes non-responsive. Still, the game has proved to be an excellent time waster thus far, and is a perfect game for those of you looking for a quick pick-up-and-play experience on your Windows Phone.
You can download Brain Mania for both Windows Phone 7 devices and Windows Phone 8 devices via the QR code. Happy playing!