With the recent launch of the Microsoft Band SDK, it comes as no surprise that developers are trying their hand at adding more functionality to the excellent Microsoft Band with third party apps.

The most recent app to take advantage of the new Software Development Kit is Band Translate, an extremely handy way to translate speech to the language of your choice.
If you have ever used Cortana to translate a phrase into another language before, you will already know the Band doesn't display the response, it says "Lets go to your phone to complete this" and you have to check your phone to see the translation. With the aid of the Band Translate app this now displays the results right to your wrist.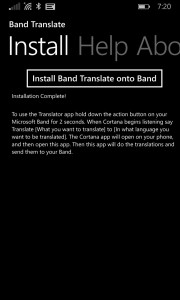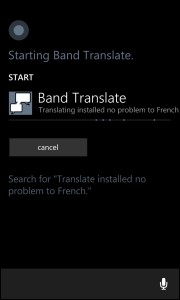 You start by pinning the third party tile to your Band, I had a slight issue at first as I didn't have any free slots and it threw an error when I attempted to install the third party app, I opened the Microsoft Health app and removed one of my unused tiles, then it installed no problem.
Once installed to get a translation is the same operation, press the action button for two seconds and your Band vibrates, then say "translate xxx to xxx" ie: "translate installed no problem to french" and wait a second for your handset to wake up and process your command, then on your wrist open up the Band Translate tile and your translation is there on your wrist.
There are 40 languages currently supported, including English, French, German and the developer even added Klingon for you trekkies!
To install Band Translate just tap or scan the QR Code as usual.