AppRaisin, a mobile-first service aimed at solving the app discovery problem, arguably one of the biggest problems in modern app stores on all platforms, is now available for Windows 10 as a universal app.
The service from AdDuplex helps Windows enthusiasts stay on top of the latest releases, major updates and special offerings. According to the publisher:
Users decide what news raise to the top by "raising" the apps they like and ignoring the noise. This way enthusiasts get to make sure that top of the crop apps get the attention they deserve and less active users get a curated list of just the best app news.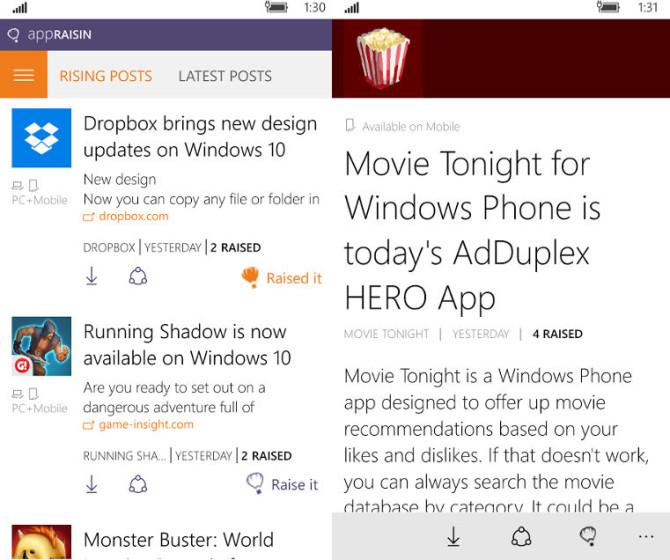 AdDuplex also describes the system as "similar to other social news sites like Digg, Reddit, Hacker News or Product Hunt" by allowing Windows developers and enthusiasts alike to post latest app news while the entire community votes to raise the most noteworthy items up the chart.
The rank of each item is based on multiple parameters including time – meaning that fresher news raise to the top while older favorites gradually slide down. This way users get a constantly fresh, curated list of new apps and important updates.
The first public release of AppRaisin includes basic functionality enabling news submission, rating, sharing and more.
AdDuplex says a "bunch" of new feature additions are also being added, including "more social stuff". The app should help you find the best apps and games the Windows platform has to offer.
You can download the first public version of the AppRaisin application via the QR code and download link below.