4castr (pronounced "forecaster") is one of the most advanced weather applications available on Windows Phone. 4castr takes a fresh approach by offering custom icons, weather alert toast notifications, and dozens of custom dynamic live tiles.
The 4castr V2.0 Update, now available, adds many new features, fixes over three dozen individual bugs, and improves the overall user experience for over six hundred daily users.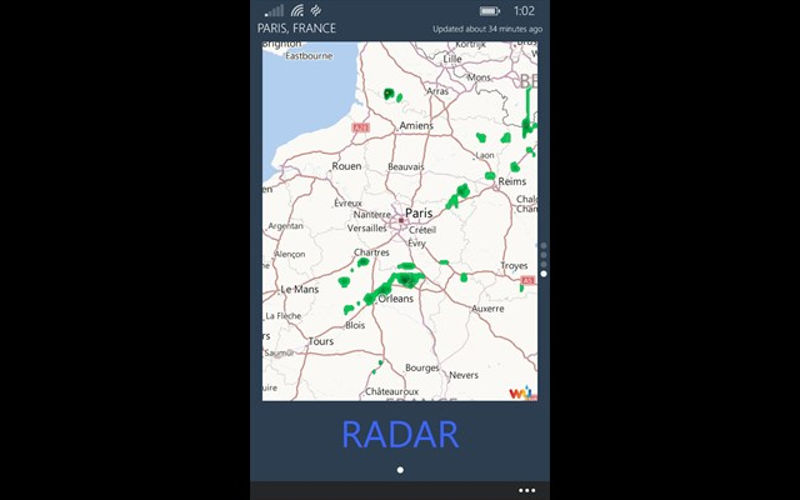 App Highlights – some of 4castr's key features include:
Unique Panel Design (Free): 4castr is designed to offer detailed weather data while maintaining a simple design. With four types of panels (current, forecast, hourly forecast, and radar), related weather data is organized into single views. Users may navigate between panels by swiping vertically. In addition to individual panel types, 4castr presents ten forecast panels for the corresponding ten-day forecast. These panels can be navigated by swiping horizontally.
Ten-Day Glance Forecast (Free): Although the ten individual forecast panels are incredibly efficient for providing the most detailed forecast possible, they do not present the full ten-day forecast at a single glance. Because of this, 4castr includes a Ten-Day Glance Forecast, which is accessible from any forecast panel by double tapping or pinching in. This view can also be used to navigate to each individual forecast panel.
Graphical Hourly Forecast (Free): 4castr offers four detailed hourly forecast graphs: temperature, wind, chance of precipitation, and pressure. These graphs represent expected values over a twenty-four period. The user may scroll through the graphs as the view is for six hours.
Tiled Radar Maps (Free): 4castr now offers dynamic radar maps via the default Weather Underground, the United States National Weather Service, and OpenWeatherMap. Users may switch between these dynamic sources as well as an animated Weather Underground radar in the app settings at no cost.
Twitter Image Share (Free): Coupled with the Twitter API, 4castr offers weather sharing via Twitter. Upon authentication, 4castr can share an image with the current temperature and condition tagged with #4castr.
Dynamic Live Tile (Paid): 4castr provides over twenty-five live tile styles ranging from small, medium, to large. In addition to these transparent live tiles, 4castr also provides users with the option to use the radar map as a single side of the live tile.
Multiple Location Support (Paid): 4castr can manage up to five locations, one of which can be set to the user's location. The user can switch between these locations by swiping right on the current panel to reveal a vertical menu. When the desired location is highlighted, the user can release to load weather data.
Customizable Weather Icons (Paid): Users can customize weather icons used within 4castr by selecting from seven presets or by choosing their own image for each weather condition.
Government Weather Alert Toast Notifications (Paid): When a weather alert is issued for a user's primary location, 4castr will send a toast notification alerting the user of potential danger. These toast notifications include a custom sound followed by an announced alert title in either an American or British accent.
Lock Screen Quick Status Temperature (Paid): 4castr leverages built-in Windows Phone APIs to provide the current temperate using a quick status slot on the user's lock screen.
Sixteen App Themes (Paid): In addition to offering gray and black themes for no cost, 4castr also offers sixteen other theme options. Themes are applied instantly throughout the app in backgrounds, accents, and buttons.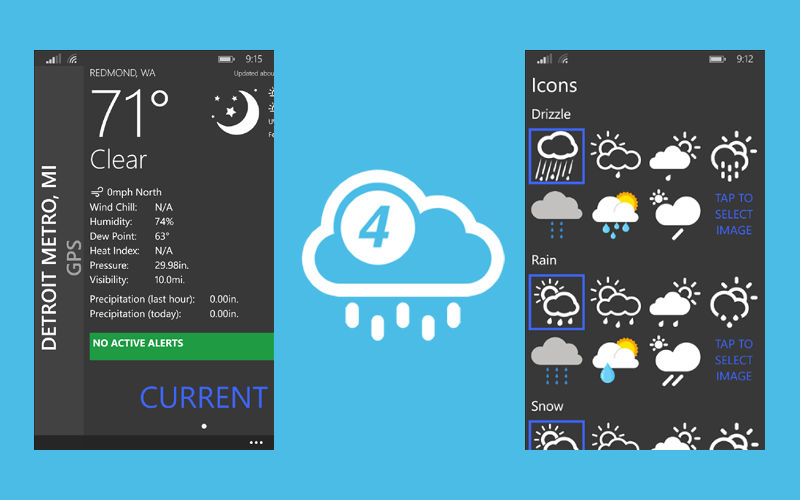 V2.0 Update Highlights – some of 4castr's latest improvements include:
Rain Alert Toast Notifications (Paid): In addition to sending government issued alerts, 4castr now automatically monitors hourly weather forecasts for imminent precipitation and sends relevant alerts. The user may adjust the minimum precipitation probability trigger based on how often they'd like to be notified of potential precipitation. Toasts notifications for rain, thunderstorms, snow, and sleet all include a custom sound followed by an announced alert title in either an American or British accent.
Quiet Hours (Paid): 4castr V2.0 adds quiet hours for weather alert notifications, when government and rain alerts are postponed until a set time. This feature is intended to prevent notifications while the user is sleeping or would rather not be interrupted. Unlike some competing weather apps, 4castr postpones notifications until quiet hours ends.
Moon Phase Data (Free): The most advanced weather app needs the most relevant data. As per popular request, 4castr now includes moon phase data on the current panel.
Pressure Hourly Forecast Graph (Free): After the addition of core hourly forecast values, many users asked for a pressure hourly forecast graph to visualize future atmospheric pressure. 4castr V2.0 answers this request.
General UX Improvements (Free): Over three dozen individual bugs were ironed out in 4castr V2.0 thanks to user reports. In addition to these bug fixes, improvements have been made to background agent stability, general performance, and data processing time.
4castr provides a free and ad-free core experience, however additional features can be unlocked by upgrading to 4castr Pro, which is available as an in-app purchase for $1.99.
Current users may update by launching an existing version of the app and tapping the update button when prompted, while new users may download the app directly from the Microsoft Store here via the QR code.